LeParfait Cliptop Jar 200ml
Including lid and 1 rubber ring
Please read our notes for LeParfait Jars below
Shipping information

Flat shipping €5.95 within the ROI. 

Free shipping from €50 within the ROI.
Returns information

We have a 14-day return policy, which means you have 14 days after receiving your item to request a return.

Unfortunately we can't offer free returns.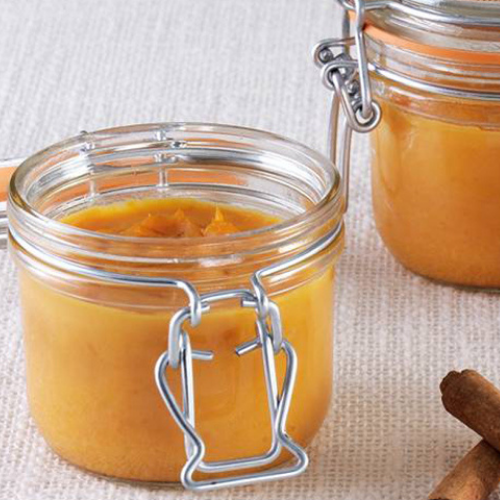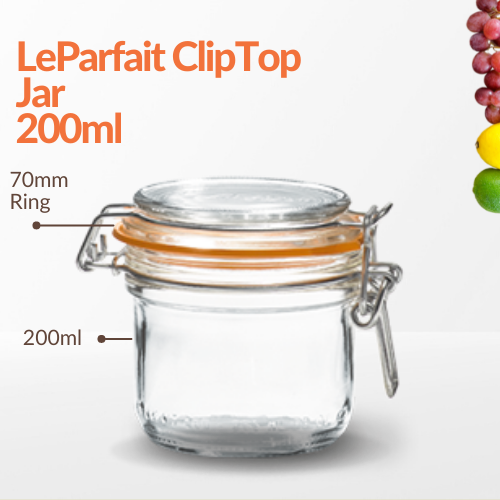 Product Details

LeParfait Cliptop Jar 200ml

Le Parfait Super Terrine Jars are specially designed with a slightly conical shape to enable the contents to slide out. 

Ideal for meat products, cakes, or any food that needs to come out as a whole after preserving - or maybe just a nice dessert.

The smaller sizes are used by restaurants as individual starters or desserts like Tiramisu. They are truly versatile and can be used as a great dry storage Jar in the kitchen pantry.

Specifications:

Size: 200ml
Height: 80mm
Diameter: 75mm
Weight: 320g
Suitable Rubber Ring: 70mm  

Includes 1 x Rubber Ring, 70mm diameter


 

The famous orange rubber seal, keeps the product air-tight, allowing long-term preservation. Top tip: only use the rubber seal once and change it after each use.

 

A special jar for every preparation

Le Parfait super jars are available in several sizes and are perfect for preserving soup, fruits, pickles or vegetables. 

 
Notes for LeParfait Jars
Please be aware of the following notes when preserving food with LeParfait Jars:
Make sure the surfaces are not chipped or show signs of abrasion or residue. Clean the jars, terrines and lids with hot soapy water. Avoid any contact between the jars or the terrines. Do not use metal or abrasive sponges.

After cleaning, rinse thoroughly the jars and terrines with hot water and let air dry.
A TASTE FOR AUTHENTIC INGREDIENTS
The transparency of glass, clear control over the ingredients you use… you'll never have any unpleasant surprises or be disappointed by false promises or hidden additives. There's nothing more honest than homemade. The jams and preserves you make at home are deliciously authentic, made with sincerity. When you open a jar of handmade preserves, you'll only find what you put in it: no artificial flavours, preservatives or other additives, and just the right amount of salt and sugar.
A TASTE FOR GOOD FOOD, BEAUTIFULLY PRESENTED
Enjoyment makes us better people, and there's no harm in indulging in the simple pleasures of good food. It's part of a lifestyle of enjoyment and sharing with others. When you make your own preserves, you pay careful attention to the taste of the produce you use. You learn how to choose the right produce at the right place and the right time. You're open-minded about good food, and definitely not ready to give up the good things in life or to give into "junk food". And beautiful food is delicious food! The attractive design of Le Parfait jars makes your preserves even more appetising and delicious.