LeParfait Rubber Rings 85mm - Pack of 10
Shipping information

Flat shipping €5.95 within the ROI. 

Free shipping from €50 within the ROI.
Returns information

We have a 14-day return policy, which means you have 14 days after receiving your item to request a return.

Unfortunately we can't offer free returns.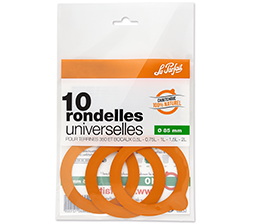 Product Details

LeParfait Rubber Rings 85mm diameter. Pack of 10 rings.

LeParfait Rubber Ring 85mm are needed for preserving food.

The Le Parfait Super rubber rings are specially fitted for the Le Parfait Jars. They are universal and can be used for your fruit and vegetable preserves as well as for savoury dishes, meats or casseroles.

Product information:

1 pack contains 10 rubber rings.

Suitable Jar:

LeParfait ClipTop Jar 500ml

LeParfait ClipTop Jar 1000ml

LeParfait ClipTop Jar 2000ml
FAQs
Do I need rubber rings and clamps?

If you want to preserve food by heating and pasteurising (see above) or if you want to seal and close the jar, then you will need to order rubber rings and clamps. Without clamps, the lid will sit loose on top of the jar.

With every jar type we have indicated what size of rubber rings are needed for these specific jars. There is only one size of clamps, so you don't need to worry about clamp sizes. 

All jars come with lids included, so there's no need to order additional lids.